Handling and transportation of CSF samples
In this article series we aim at highlighting the current state of knowledge and the latest developments in the field of Alzheimer's disease (AD) testing. This chapter details the recommended procedure for handling and transportation of CSF samples.
Other articles in this series:
Cerebrospinal fluid (CSF) can be collected in the lumbar region by an experienced physician. Taking into account the necessary precautions (e.g, sterile environment) and other medical investigations (e.g, brain imaging), the lumbar puncture is generally accepted by the medical society as a safe procedure. Adsorption to plastic polymers can alter the biomarker concentrations and the extent of this adsorption differs between tubes. Therefore, always use the same polypropylene reference tube (within one lab).
 
Recommended procedure
The CSF sample must be sent to the local laboratory without delay.
 

» A CSF cell count is usually performed
» The CSF sample is centrifuged in the original tube
 

The CSF sample is aliquoted for basic and specific neurodegenerative disease biomarkers.
 

» CSF should be aliquoted in tubes made of polypropylene
» The volume needed for CSF analyses may vary between laboratories
» The volume needed for Alzheimer specific biomarkers is between 0.5 mL and 1.0 mL
 

Transportation: CSF samples can be sent by ordinary mail, at room temperature if the shipping time is less than two days. If the CSF sample is taken on a Friday, it can be frozen and sent to the central laboratory on dry ice the next week.
 
Handling of CSF samples before analyses of AD biomarkers.
 

» It is recommended to freeze CSF samples if the analysis cannot be performed within 48 hours. Samples sent frozen should be kept frozen until analysis.
» CSF samples sent at room temperature should be frozen, and CSF samples sent frozen should be kept frozen.
 
Sample analysis on fresh samples upon arrival may result in slightly different CSF biomarker values compared to frozen samples but is unlikely to result in a different CSF biomarker profile.
Schematic representation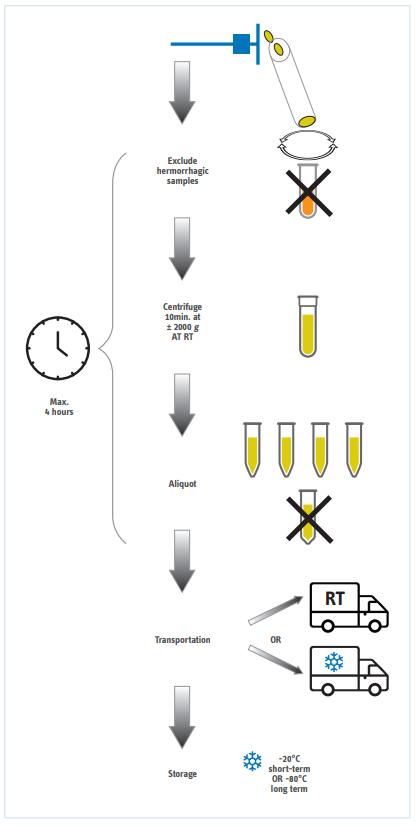 Bibliography
The Alzheimer's Association international guidelines for handling of cerebrospinal fluid for routine clinical measurements of amyloid β and tau. Hansson O, et al. Alzheimers Dement. 2021; 1-8.
Measurement of CSF core Alzheimer disease biomarkers for routine clinical diagnosis: do fresh vs frozen samples differ? Bellomo G, et al. Alzheimers Res Ther. 2020; 12(1): 121.
Towards a unified protocol for handling of CSF before β-amyloid measurements. Janelidze S, et al. Alzheimers Res Ther. 2019; 11(1): 63.