[Jan 2022 Update] This scientific literature overview demonstrates the excellent performance of the fully automated nucleocapsid protein antigen assay Lumipulse® G SARS-CoV-2 Ag
Lumipulse G SARS-CoV-2 Ag was the first high-sensitive nucleocapsid protein antigen assay launched on a fully automated chemiluminescent platform.
It has been used by Japanese authorities since August 2020 for quarantine screening of arriving travelers in major international Japanese airports.12,13,14
Fujirebio's advanced technology supports also multiple European test centers to set up easily accessible, reliable and rapid COVID 19 testing e.g. screening in Italy for specific target communities such as schools, residential care homes, prisons to control and monitor the spread of the SARS-CoV-2 virus.2,3,5,8
The Lumipulse SARS-CoV-2 Ag assay can be applied on both nasopharyngeal swabs and saliva samples. Lumipulse G SARS-CoV-2 Ag testing has been demonstrated to be reliable and accurate also in saliva, with highest sensitivity achieved within the first week of onset of symptoms and/or high viral load (Ct-values <25).9,10,11,15
High correlation between Lumipulse Ag values and RNA viral load values by RT-PCR has been shown in multiple studies.1,2,5, 7,12  The drop in antigen levels appears to mark the point when levels of infectious viral particles diminish showing a high association of Ag measurement with actual infectivity.1
The excellent performance, high quality and accessibility of the Lumipulse G SARS-CoV-2 Ag testing solution has been evaluated in multiple published studies and similar performance has been shown for the multiple SARS-CoV-2 virus variants of concern.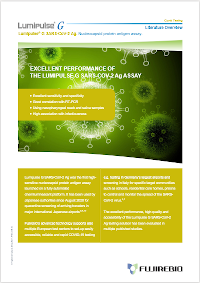 We have collected the main scientific publications in a literature overview leaflet that will be updated regularly as new studies are concluded.
Feel free to contact us for more information.
 
References:
Hirotsu Y. et al. Int J Infect Dis. 2021;105:7-14
Menchinelli G. et al. Clin Chem Lab Med. 2021;59(8):1468-1476
Gili A. et al. Int J Infect Dis. 2021;105:391-396
Caputo V. et al.  Int J Infect Dis. 2021;108:187-189
Osterman A. et al. Med Microbiol Immunol. 2021; 1-13
Loconsole D. et al. Biomed Res Int. 2021; Volume 2021, Article ID 3893733, 7 pages
Ishii T. et al. J Infect Chemother. 2021;27(6):915-918
Yokota I. et al. Infect. Dis. Rep. 2021, 13(3), 742-747;  
Basso D. et al. Clin Chim Acta. 2021;517:54-59
Yokota I. et al. http://dx.doi.org/10.2139/ssrn.3719066
Norizuki M. et al. Travel Med Infect Dis. 2021;43:102127
Norizuki M. et al. Glob Health Med.. 2021;3(2):107-111
Amendola A. et al.  J Clin Med. 2021;10(7):1471