DiaPlexQ™ Flu A/B & SARS-CoV-2 Detection Kit
Real-time RT-PCR test for the qualitative detection of HA gene from Influenza A/B virus and N and ORF1a gene from SARS-CoV-2 in nasopharyngeal swab. 
Simple, Fast, Sensitive.
CE marked
DiaPlexQ Flu A/B & SARS-CoV-2
Product number 81131
100 tests
Please contact your local Fujirebio representative for the availability of this product in your country.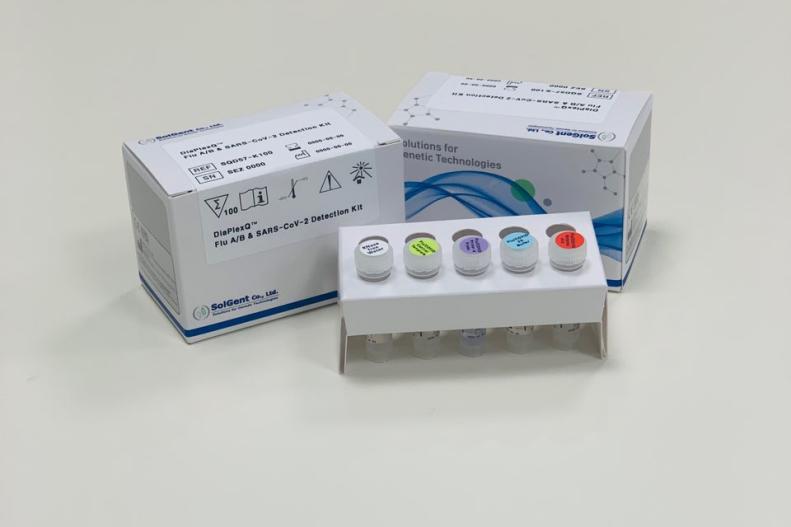 Click here to navigate
Details
Conditions of sale
Documentation
Insights
Related products
Details

Features:

Hot Start PCR: high specificity
Detection Target: HA (Influenza A/B), N and ORF1a gene (SARS-CoV-2)
OneStep PCR: multiple targets in a single reaction
Reliable system: internal PCR control (RNase P)
Easy-to-use master mix: just adding template and Primer/Probe Mix
Rapid detection: 75 minutes amplification
Specimen Type: Nasopharyngeal swab

 
Compatible instruments:

Applied BiosystemsTM 7500 Fast Real-Time PCR System
Applied BiosystemsTM 7500 Real-Time PCR System
Bio-Rad CFX96TM IVD Real-Time PCR System
QuantStudioTM 5 Real-Time PCR System

Documentation

Browse regulatory documents for this product

Create a (free!) eServices account and start browsing all regulatory documentation right away.

Get access to this section and more

Create a free eServices account now and instantly access multiple digital resources: 

Regulatory product documentation
Selected scientific posters
Product leaflets 
How-to videos and more…