iAMP COVID-19 SANO Assay
A real-time fluorescent RT-isothermal assay based on Atila's proprietary isothermal amplification technology intended for the qualitative detection of nucleic acid from the SARS-CoV-2 in nasopharyngeal swabs, oropharyngeal swabs and saliva specimens from individuals with signs and symptoms of infection who are suspected of COVID-19.
Fast. Simple. Accurate.
CE marked
iAMP COVID-19 SANO Assay
Product number 81104
100 Tests
iAMP COVID-19 Sample Collection Device*
Product number 80762
100 Tests
iAMP-COVID19 Sample Collection Device NP*
Product number 80812
100 Tests
Please contact your local Fujirebio representative for the availability of this product in your country.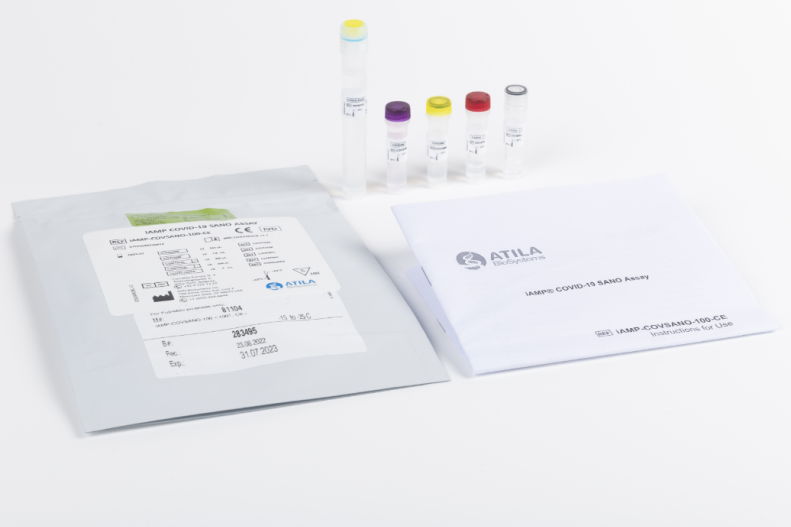 Click here to navigate
Details
Conditions of sale
Documentation
Insights
FAQ
Related products
Details

Results are for the identification of SARS-CoV-2 RNA. The SARS-CoV-2 RNA is generally detectable in upper respiratory specimens during the acute phase of infection. Positive results are indicative of the presence of SARS-CoV-2 RNA; clinical correlation with patient history and other diagnostic information is necessary to determine patient's infection status. Positive results do not rule out bacterial infection or co-infection with other viruses. Negative results do not preclude SARS-CoV-2 infection and should not be used as the sole basis for patient management decisions. Negative results must be combined with clinical observations, patient history, and epidemiological information.

The iAMP COVID-19 SANO Assay is intended for use by trained clinical laboratory personnel specifically instructed and trained in the techniques of real-time nucleic acid amplification and in vitro diagnostic procedures.

* The iAMP COVID-19 Sample Collection Device and iAMP COVID-19 Sample Collection Device NP are for Research Use Only; not for use in diagnostic procedures. Not yet available as CE marked product.

Documentation

Browse regulatory documents for this product

Create a (free!) eServices account and start browsing all regulatory documentation right away.

Other documents

Get access to this section and more

Create a free eServices account now and instantly access multiple digital resources: 

Regulatory product documentation
Selected scientific posters
Product leaflets 
How-to videos and more…

FAQ

How does the coronavirus disease Covid-19 impact Fujirebio's operations?