OEM solutions for the IVD Industry
Fujirebio provides a comprehensive array of human and animal serum products to the scientific community.
We have the capability to manufacture small and large batch serum-based matrix preparations; and we offer contract manufacturing for high-quality, in vitro diagnostic controls, calibrators, and reagents.
We strive to provide a complete "raw material to finished product" approach to fulfill our customers' needs. We are able to assist in the choice of matrix, treatment, testing, filling, labeling, and packaging specifications. Specially selected serum sources, in addition to unique customer requirements, enable customized solutions to your base matrix needs.

Our commitment to quality and our determination to offer affordable products, coupled with on-time delivery, has afforded us many long-term customer relationships. Our specialty is the ability to offer niche products unavailable from other bulk manufacturers.

Fujirebio competencies are enhanced by our quality certification in ISO 13485. We are FDA registered as a manufacturer and contract manufacturer and comply with the requirements of the FDA's Quality System Regulations 21CFR820.

Our experience in the Chemistry and Immunoassay Control markets includes fertility and thyroid hormones, glucose, glycated and non-glycated hemoglobin products in the in-vitro diagnostics market, including Point-of-Care Testing and Over-the-Counter device controls.
Video: Brief introduction to Fujirebio OEM solutions
Focus: OEM capabilities at Fujirebio Europe
As an example of our OEM offer we suggest you download this leaflet dedicated to the OEM solutions available from our facilities in Gent, Belgium.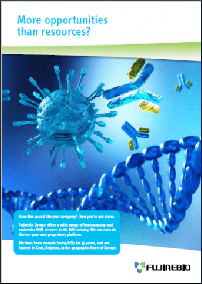 Browse our global raw materials catalogue or contact us
Fujirebio has a history of long-term partnerships with its clients, built on its reputation, providing the highest quality products at competitive prices. Would you like to obtain more information about our custom OEM services or do you have a project for which you need support? 
or